Norsk vegansamfunns julebord i Bergen
10. December 2015 @ 19:00

-

23:55

320kt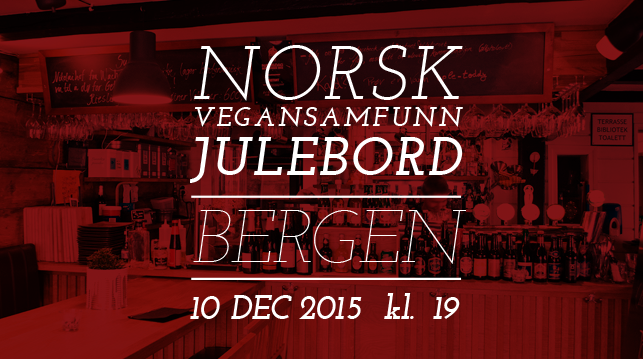 We cordially invite you to the official Norsk vegansamfunn julebord at Bastant in Sandviken! Yes, Bergen gets their own (and frankly, the coolest) vegan julebord too. For one night only we are taking over the whole of Bastant as they serve a huge variety of vegan food to our julebord guests, and we eat it all up, drink all their beer and maybe dance our asses off.
At our julebord we plan to eat, drink and be merry. Did you know that Bastant has a fantastic beer and drink selection? We are sure we can find something to your taste to accompany your dinner. This event is open to all vegans and vegan curious who want to come. You don't have to be a member of the vegan society to come and hang out with us. There are however only 35 places, and we predict that this will sell out fast, so get your tickets asap:
https://www.tikkio.com/tickets/711-norsk-vegansamfunns-julebord-i-bergen
The event is on a Thursday evening so it shouldn't clash with any of your other weekend plans ( we know that christmas is a busy time for everyone!)
Check out our ridiculously amazing menu below. All of this for only 320kr per person. Not too bad really considering we get to take over the cafe for the whole night, hang out with buddies and eat loads of vegan dishes!
So put on your glad rags, and we will see you there!
(Please get in touch if you have any food allergies or intolerances and we will fix!)
Contact: Sally Renshaw 97856334
GOD JUL
Vegan christmas tapas buffet:
Vårrull med savoykål, eple, purreløk,kvitløk,spinat og sopp
(Spring rolls with cabbage, apple, leek, garlic and mushrooms)
Vårrull med rødkål
(Spring rolls with red cabbage stew)
Krydret epledressing
(Spiced apple dressing)
Sylta sellerirot
(Pickled celeriac)
Hovemestersaus
(Swedish mustard sauce)
Saltbakt røbetsalat – med kvitløk olivenolje pepper og persille
(Salt baked beetroot salad- with garlic, olive oil, pepper and parsley)
Rotgrønnsaksgrateng med urteolje, søtpotet,potet, gresskar
(Root veg "Pommes Anna"- with herb oil)
Fennikelsalat
(Fennel salad)
Sylta gulrot, løk og sopp
(Pickled carrot, onion and mushroom)
Sesam og soya gresskar
(Sesame seed and soy pumpkin)
VEGAN JUL ROAST!
(Yummy vegan christmas roast)
Hummus with brød olje og eddik
(Hummus with fresh bread, oil, vinegar)
Dessert:
Vegansk riskrem med bringebærsaus (Traditional Norwegian rice pudding with raspberry coulis)